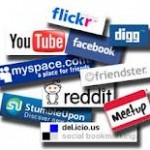 The phenomenal growth of social media isn't new to most people. In fact, it's believed that Facebook is one of the most frequently visited sites anywhere on the Internet.
Yet the very nature of social media is based on ephemera. That means messages and information circulated via social media just isn't meant to be long-lasting or preserved for any length of time. It's there one moment, only to be replaced by something else that draws their attention a couple of minutes later.
Trying to increase your brand awareness using social media isn't impossible. Rather, it's quite easy to get your business logo out in front of millions of prospective customers without much effort.
The real trick is making that information stick in their minds. They need to associate your brand with you and they should be able to identify your business as being one they trust based on the brand impact you create.
Here are some ways to use social media effectively in your branding efforts:
Accounts
Trying to join up with every single social media site available would take up far more time than most people have available. You'd never get anything else done.
Yet there are some accounts that are crucial for increasing brand awareness through social media. These include:
Facebook is extremely useful with a very broad reach
Twitter is a must for any online marketer
YouTube is mandatory for video uploading
Del.icio.us is ideal for social bookmarking
Flickr is great for sharing photos
LinkedIn is excellent for building up your professional network
StumbleUpon and Digg.com accounts are great for voting and also for helping to bookmark your own new content to increase awareness On top of these, a WordPress account can be a good idea too, simply because it will give you OpenID advantages on other blogs.
Content
Content is still king even on social media. Whenever you create new content for your website or blog you should link to it from your Twitter account and Facebook account. This will help your friends or followers to recognize when you have new information available.
If the content you product is consistently helpful, informative, educational or entertaining, those people will begin to look forward to the next time you link another new content addition.
Keep your content short and to the point. People's attention spans tend to be shorter when they're reading online material, so consider adding graphics or video to your posts to help add a different element.
Conversation
Social media is all about being social. Whether you're commenting on a status update on Facebook or responding to a blog post, you have the opportunity to draw awareness to you and your business.
Forums and blog posts are ideal for this tactic, as you have the chance to offer helpful advice without giving a hard-sell sales pitch. Social media is also no place to brag or boast about your own achievements. Let your signature line do that for you. Your responses need to be empathetic, helpful or useful in some way to truly have the effect you want. Those people reading what you've written will come to appreciate your input.
Community
Building a community online is easier now than it's ever been before. Yet far too many marketers make the mistake of believing that community is the same thing as 'market'. This just isn't true. Your website or blog needs to be focused squarely on other people.
Always make it easy for the people within your community to reach you. This means putting prominent links to your social media profiles somewhere on your site for them to find you easily.
When you've built up a healthy little community, take time out to be a part of it. Contribute to their conversations. Update your status on Facebook or LinkedIn from time to time. Offer guest blog posts on their blogs to help them out at the same time as promoting your own expertise. Visit their blogs.
Thank them for their time or comments and be appreciative of their efforts when the contribute something.
Each of these tactics can help you gain some real traction with getting your brand out through social media. Put them to good use in your own branding efforts and you should see the results.